Get Professionals for Glass Door Installation, At A Reliable Cost in Whitby. Residential Glass Door Installation, Customized Glass Door Installation, and Window Glass Door Installation Services Are Also Available.
Whitby Glass Repairin Whitby offers glass door installation of different types of glass doors such as sliding glass doors, French doors, patio doors, and entry doors. Glass doors are an excellent way to allow natural light to flood interiors while also providing unobstructed views of the outdoors. These doors are designed to provide unobstructed views of the outdoors while also allowing natural light to flood your interior spaces, creating a bright and welcoming ambiance. At Whitby Glass Repairskilled technicians install the door, ensuring that it slides smoothly and aligns perfectly with the door frame. These services are ideal for enhancing the aesthetics, functionality, and value of a home or business. Glass Door Installation Services are ideal for any property owner who wants to enhance the aesthetics, functionality, and value of their home or business. Contact us today at Whitby Glass Repairto schedule a consultation and learn more about our glass door installation services.

Custom Design For Glass Door Installation in Whitby
Custom design for glass door installation at Whitby Glass Repairinvolves creating a unique and personalized glass door that meets the specific needs, style, and preferences of the customer. This process is typically performed by a team of specialists who work closely with the customer to create a design that reflects their vision. The Glass Door Installation Team creates a sketch or digital rendering of the glass door based on the customer's input. The design incorporates elements such as color, texture, pattern, and size. The installation process is typically performed by a team of skilled technicians who ensure that the door is properly aligned and functions smoothly. Custom design for glass door installation is ideal for customers who want to add a unique and personalized touch to their home or business. These doors are a statement piece that will enhance the aesthetic appeal and increase the value of the property.
Cleaning And Polishing Glass Door Installation in Whitby
Whitby Glass Repairaims to maintain the appearance, function, and lifespan of glass doors. Over time, glass doors can accumulate dirt, fingerprints, and other contaminants, which can make them look dull and reduce their transparency. Cleaning and polishing services at Whitby Glass Repairinvolve using specialized equipment and solutions to remove these contaminants and restore the glass door's shine and clarity. Polishing provides additional protection to the glass, preventing scratches and other damage that can accrue over time. These services are essential for maintaining the hygiene and appearance of glass doors. They also prolong the lifespan of the door, ensuring that it functions well and looks great for years to come. Regular cleaning and polishing at Whitby Glass Repairensure that glass doors maintain their aesthetic quality and functionality, making them an attractive feature in any property.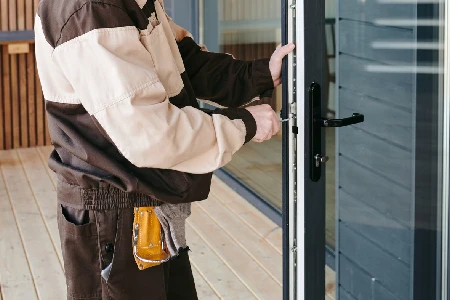 Commercial Glass Door Installation Services in Whitby
When it comes to commercial glass door installation in Whitby, Whitby Glass Repairprioritizes the highest standards of quality and craftsmanship. We work with a wide range of glass types, including safety glass and energy-efficient options, to meet the specific needs of your business. Our team carefully measures and prepares the opening, ensuring a precise fit for the glass door. We also take into consideration factors such as security, accessibility, and compliance with building codes and regulations.
Our commitment to excellence extends beyond the installation process. We offer a wide selection of glass door styles and designs to suit your specific aesthetic preferences and branding requirements. Whether you need sleek and modern frameless glass doors or elegant and classic Glass Door Framing Installation, we have the expertise to deliver exactly what you envision.
Cost of Commercial Glass Door Installation Services in Whitby
The cost of commercial glass door installation services can vary depending on several factors. These factors include the size and type of the door, the complexity of the installation, the location of the project, and any additional features or customization required. It is best to consult with a professional glass door installation service provider to get an accurate estimate tailored to your specific needs. In general, the cost of commercial Glass Windows Installation can range from a few hundred to several thousand dollars per door. This cost typically includes the price of the glass door itself, any necessary hardware or accessories, labor charges for installation, and any additional services such as removal of existing doors or customization options.
Top-Notch Glass Door Installation Services in Whitby
For glass door installation, top-notch services are essential to ensure a seamless and high-quality installation process. Whitby Glass Repairhas a team of skilled and experienced professionals who specialize in working with commercial glass doors. They have in-depth knowledge of Different Types Of Glass Doors, such as sliding doors, pivot doors, or automatic doors, and understand the intricacies of their installation. Their expertise ensures precise measurements, proper fitting, and a flawless installation. Top-notch services at Whitby Glass Repairunderstand that each commercial space has unique requirements. They offer customized solutions tailored to your specific needs, whether it's a specific design, size, or functionality requirement. They work closely with you to understand your vision and provide expert advice to achieve the desired result.

Customized Glass Door Installation Services in Whitby
With customized glass door installation services, clients have the freedom to choose from a wide range of options, including different glass types, frame materials, hardware, and finishes. Whether it's a sleek and Modern Glass Door Installation or a traditional framed glass door, Whitby Glass Repair works closely with clients to understand their vision and provide expert guidance to achieve the desired result. The Whitby Glass Repairteam has the expertise and resources to handle unique architectural designs or unconventional door openings. They can create custom glass panels and frames to fit perfectly into any space, ensuring a seamless and visually appealing installation. Whitby Glass Repairoffers a personalized approach, expert guidance, and a commitment to delivering exceptional results that surpass expectations.